WHAT TO DO
Our clients feel free to choose whether they wish to relax or to profit from all the events taking place in the region of Herdade da Chaminé.
In fact, we don't have low seasons; there is always something going on, so we leave the decision to our clients if they wish to have a mixture of relaxation and the fun of participating in some events.
We offer very nice programs:
In winter, the sky is blue and it is marvellous to visit all the castles, walking along the mountains, watching the birds and going to the surrounding beautiful villages.
EVENTS
From October to February – All programs + Hunting
March to September - All programs + Bullfights + local festivals
September to November - All programs + Wine festival + Cellars events.
PROGRAMS IN THE REGION OF HERDADE DA CHAMINÉ
Inside:
Cooking classes with one cook of one restaurants in the region;
Horse-back riding for clients who previously sign a statement of responsibility;
Spinning, Jogging (exercise circuit);
We can spend our time making many programs inside our estate;
A small gym with fitness wall bar and spinning;
Swimming pool;
Living room with cinema screen (selection of movies);
Jogging in the 87 ha of this beautiful property;
Outside:
Cellars events (the party of the Vineyards and Wine, starting in September and finishing in November 15th);
Exhibitions;
Bullfights;
Visits to local estates;
Visit to the Alter Real estate (falconry);
Wine tasting at selected wineries;
Spanish-style bull fighting (seasonal);
Portuguese-style bull fighting (seasonal);
Visits to UNESCO World Heritage places / Exhibitions (Elvas, Évora);
The market in Estremoz on Saturdays;
Local festivals;
Markets: the local festivals always comprise markets in each town and village;
Antiques Market on Saturdays in Estremoz (town nearby).
VISITS



Cáceres (Spain)




Vila Viçosa Palace




Elvas




Évora Monte




Campo Maior




Estremoz




Marvão




Castelo de Vide




Coudelaria Alter
(show of horses and hunting falcons)




Templo de Diana - Évora




Arronches




Monforte
Cellars
Quinta do Carmo (Grupo Rothschild)
Quinta D. Maria (Júlio Bastos)
Glória Reynolds (Julian Reynolds)
Monte da Penha (Francisco Fino)
João Portugal Ramos (Teresa Ramos)
Adega Tiago Cabaço (Glória)
Adega da Cabaça (Câmara de Portalegre)
Adega dos 6 Reis (Estremoz)
Golf
Badajoz Golf – contact person: Mr. Juan Murillo (Tel: +34 924 448 188 or
info@golfguadiana.es
)
This region is a privileged destination for Golf players
Cooking classes*
Include the lesson, one bottle of wine and the 2 meals -
175 € - 2 persons
Hunting Programs
Partridge, deer, wild boar and hare hunting on horse with previous booking (season from October to February).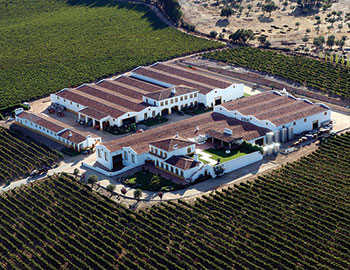 WINE TASTING
Visits can be arranged not only to some of the best established Portuguese estates (called "quintas" or "herdades") where wine-making has been a tradition for several generations, but also to some new wineries, which are producing some of the country's finest wines. The wine events may take place at the estates or at any of the following carefully selected wine cellars:
- Adega Monte da Penha (Portalegre)
- Adega João Portugal Ramos (Estremoz)
- Adega Quinta do Carmo (of the Rothschild Group)
- Adega Gloria Reynolds (Arronches)
- Adega Monte dos Cabaços (Arcos)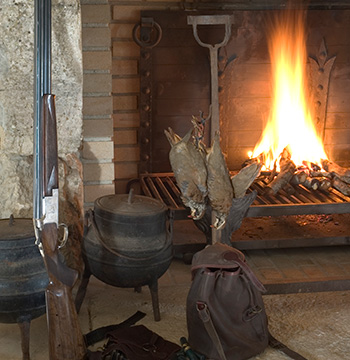 HUNTING
There are 5 types of hunting that can be performed on the estates surrounding Herdade da Chaminé.
Partridge: Let us begin with partridge, an all-time hunting favourite. Local farms offer a tableau de chasse of 300 up to 1.500 partridges (flushing birds using beaters or bird dogs).
Wild Boar: To hunt this challenging species requires great expertise in movement, whether the hunter is on foot or on horseback.
Deer: A few deer species found in Portugal are considered impressive trophies worldwide.
Hares
: The best hare hunting is also popular in this region, with specially-trained greyhounds assisting in hunting on horseback. Many lovers of this kind of hunting prefer this region. The season is open on weekends, from October to February.
Fox
: With Santo Humberto equipment we are able to practice fox hunting on horseback locally, following all the English rules.